Porcelain tile floors are usually preferred because aesthetically they make the space in which they are located look really beautiful. This kind of flooring stands out for its aesthetic and functional qualities, since this type of material is very easy to clean.
Although for some people the cleaning of porcelain tile can be tedious, and not so much because of the work itself, but because it is necessary to be constant with its cleaning so that they are always in perfect condition.
Like everything in life, if we want it to last over time, we must take care of it. And so that they can have a long life and always look clean, it is vital to maintain them. Many people believe that this is a really difficult task, and it is not so. If you want to know how to keep them always clean and sealed, I invite you to read on.
Porcelain tile as a favorite for home flooring
Porcelain tile is one of the preferred materials to cover the floor of homes, and in many occasions it is also used to cover walls. This type of material has become a favorite in many homes because it is easy to clean and is much more resistant than ceramic.
If you are one of the people who have this type of floors in your home and you usually have a hard time cleaning them, it would be ideal for you to hire a porcelain tile floor cleaning service in Phoenix az. You can contact cleanerfull, who offer excellent floor cleaning services in Phoenix az. But if you want to do it on your own, here we tell you how to do it in a simple way.
Steps for cleaning porcelain tile
The first step for cleaning is to use a soft bristle broom to avoid scratching the floor. This step is not a deep sweep, but to clean the visible remains of dirt.
After sweeping the floor, it is time to remove the smaller and less visible dirt, this should be done with a dry mop, or also known as dust mop, this as its name says is to remove all traces of dust from the porcelain tile.
Mix warm water with vinegar and mop. Vinegar is an excellent natural disinfectant and highly recommended for cleaning porcelain tile floors. Of course, you must dilute it very well so that the floor is not stained. In addition to disinfecting, vinegar can also remove those annoying odors that sometimes remain impregnated in the house.
Frequency for cleaning porcelain tile floors
Daily Cleaning
This type of material is not very demanding in terms of maintenance, but to keep it impeccable and in excellent condition, it must be cleaned daily with grease-free and non-soapy products. Likewise, products such as sulfuric acid, hydrochloric acid and their derivatives should be avoided.
Periodic cleaning
It is of great importance to perform a deeper maintenance to this type of floors from time to time, at least once a month. The first thing to do is to remove all the dirt and dust, this should be done with a vacuum cleaner or a soft bristle broom. Then you should apply a suitable cleaner and let it act for a time not exceeding 5 minutes. Then remove.
Porcelain Tile Sealing Steps
The first thing you need to know in order to seal porcelain tile is the materials, but first you should know that polished porcelain tile does not require sealing. Now yes, the materials to seal are the following.
– Porcelain tile sealer.
– Liquid cleaner for porcelain tile.
– Waype.
– PPE.
– Wax remover.
Once you have the materials on hand, you will proceed to use the Waype and wax remover to remove matter from the floor that may interfere with the seal. Then use the dry Waype to thoroughly clean the entire surface.
With the porcelain tile cleaner you will wet the Waype and begin to pass it over the entire surface to be sealed. Once the whole process is done, pour the sealer on the piece and start rubbing it all over the surface, this will be done with the help of the Waype, now let it dry and that's it.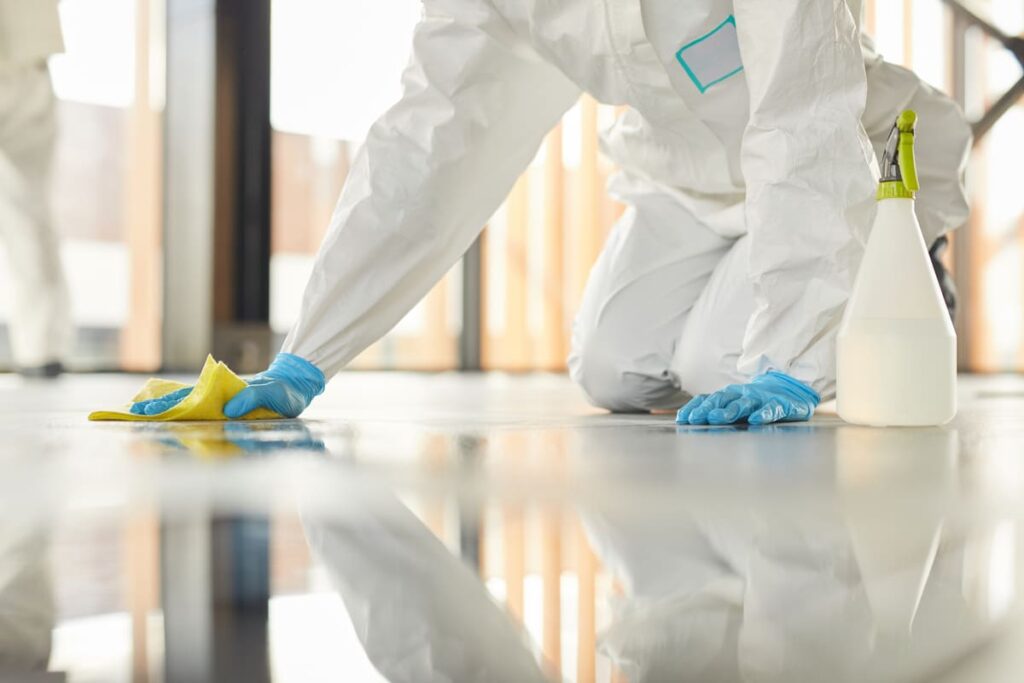 Types of porcelain tile and how to treat it
There are different types of porcelain tile, and each one of them has a different type of care and cleaning, since they are different from each other and the same cleaning cannot be done for all of them, because they can be damaged.
Polished porcelain tile
This porcelain tile is the one that is shiny. Because it is a very delicate floor, it is necessary to be careful when cleaning it, since a bad cleaning can ruin its shine. For this type of porcelain tile it is recommended to clean it with a soft mop or a non-abrasive cloth.
It is important to emphasize that this type of porcelain tile should not be cleaned with a broom because you can damage it and that shine that you liked so much at the beginning may disappear, the ideal to remove excess dust, is to use the mop or a mop.
Textured porcelain tile
Because of its texture, dust tends to accumulate between the patterns that make it up. The ideal is to sweep in different directions to remove the accumulated dirt. Once this is done, you can proceed to clean them with plenty of hot water and a neutral solution or a neutral soap as well.
To clean porcelain tile floors we recommend you to contact Cleaner full a floor cleaning and sealing company with an excellent track record and a great team of professionals, willing to provide a good porcelain tile floor cleaning service in Phoenix az. besides they not only have cleaning, but you can also hire them to perform the sealing of the same.
To scrub it you can use a brush with hard bristles. After having removed the detergent residues with plenty of water, it is time to dry it. For this you can use a soft cloth or rag.